Posted: 24 September 2018
RNLI Dart News Update
24 September 2018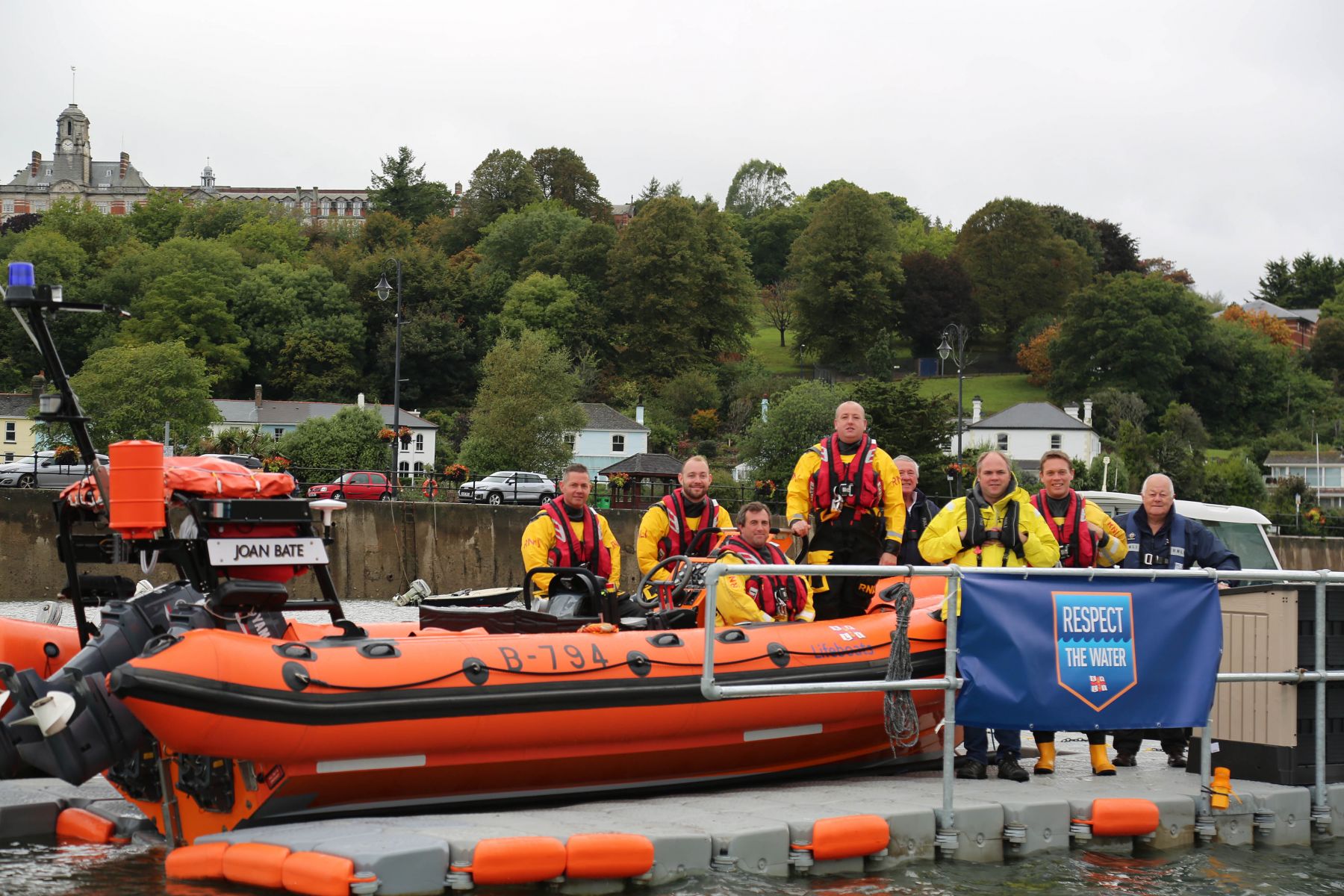 Photo: Riki Bannister RNLI Dart Assistant Lifeboat Press officer.
Dart RNLI's trial B class Atlantic 75 lifeboat arrived on station last Wednesday (19 September) ahead of a two-year trial period.
The lifeboat Joan Bate was on service at Salcombe RNLI until January 2018, where she launched 282 times and saved 11 lives during her 14 year service.
She arrived in Dartmouth on Wednesday much to the delight of the 21-strong volunteer crew at Dart RNLI, having travelled by trailer from the RNLI's Inshore Lifeboat Centre in East Cowes,
Volunteer Lifeboat Operations Manager Mark Strudwick said: 'We are delighted to welcome the Joan Bate to our station and look forward to putting her to good use on the River Dart during this trial. Our volunteer crew are undertaking intensive training to get up to speed with the new lifeboat and her capabilities before she goes on service later this autumn. This is an exciting time for Dart RNLI as we look to the future and see whether an additional lifeboat to work alongside our current D class lifeboat is a viable option.'
The B class Atlantic 75 class lifeboat is the fastest in the RNLI's fleet, with a top speed of 35 knots. It's designed as a very capable fast response craft able to operate in more challenging sea conditions and has a greater night capability than the smaller D class.
The D class lifeboat will remain on service throughout as Dart's permanent lifeboat.
A review was carried out in 2017 and indicated a potential need for a B class lifeboat stationed at Dartmouth based on the number and type of incidents that the station has responded to over the last five years. The review considered the number and types of rescues carried out by each lifeboat, changing trends and water use within the area, search and rescue demands, costs, as well as future needs. As part of this review, both Dart and neighbouring Torbay and Salcombe lifeboat stations were involved in feeding into the review to help build an all-round picture for consideration.
Simon Crayfourd, Area Lifesaving Manager, adds: 'The arrival of this trial lifeboat marks a milestone for Dart RNLI and we will watch with interest to see how this asset will benefit not just the volunteer lifeboat crew but the entire water community who enjoy the River Dart and the surrounding areas.'
The trial will begin officially once all volunteer crew have been trained and assessed in using the new vessel, expected later this autumn.
---
Posted: 15 August 2018
RNLI Dart news update 15 August 2018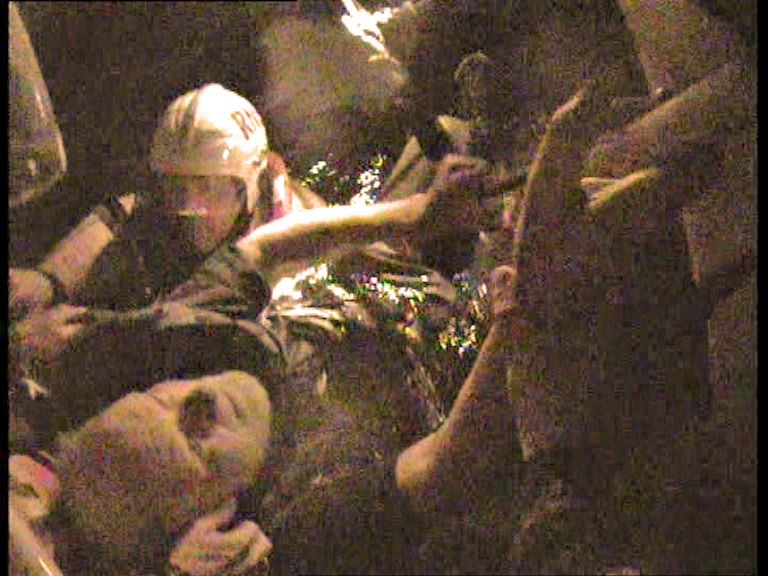 Photo: Chris Rampling RNLI
The BBC series Saving Lives at Sea, demonstrating the lifesaving work of the Royal National Lifeboat Institution (RNLI), will once again be hitting TV screens from Tuesday 21 August 2018. Broadcast at 8pm on BBC2.
Saving Lives at Sea will return for a third series on Tuesday 21 August at 8pm on BBC 2
The popular 10-part documentary series features real rescues carried out by the charity's lifeboat crews and lifeguards around the UK and Ireland.The first episode will be shown on Tuesday 21 August at 8pm on BBC Two and will feature, among other stories, a dramatic rescue of a fisherman swept overboard, a stunning show of bravery as a father is saved by his teenage son, and a race against time to save a woman trapped by the tide on top of her car.
The second episode, which follows in the same week on Thursday 23 August, sees a teenage girl with potentially life-changing injuries rescued following a watersports accident, as well as a stranded kayaker and an elderly man falls into the water at 11pm in Dartmouth harbour.
This rescue; Launch 341 "Man in the water at Hoodown" took place on 23 September 2017. You can see how we told the story on the local station web site www.dartlifeboat.org.uk and finding it under the launches tab.

Filming took place over the past year, with lifeboat crews and lifeguards carrying special cameras and welcoming film-makers into their day-to-day life. Rescues from the RNLI's archives are also revisited, and we get a glimpse into the everyday lives of the thousands of men and women who give up their time to save lives.
Last year alone, RNLI lifeboat crews around the UK and Ireland launched over 8,400 times, assisting over 8,000 people, while the charity's lifeguards responded to 17,414 incidents and saved the lives of 127 people on some of the UK's busiest beaches.
Saving Lives at Sea will be broadcast on BBC Two and will continue throughout August, September and October.
Dartmouth regatta.
There will be two RNLI demonstrations during this year's regatta, although unfortunately the joint working of the local lifeboat with the Royal Navy's Sea Kings is no longer be possible.
Regatta Friday 31 August 6pm. Dart D class lifeboat will be carrying out a joint rescue with Salcombe's Atlantic 85 B class. The demonstration will take place between the Town Pontoon and the Lower ferry.
Regatta Saturday 1 September 1pm. Dart D class lifeboat will be carrying out a joint rescue with Salcombe's Tamar class all weather lifeboat. The demonstration will again take place between the Town Pontoon and the Lower ferry.
Latest News Release and video on the www.rnli.org.uk  web site. On 9 August we were asked to respond to a crewman with acute chest pain on a 14m fishing boat 2 miles off Dartmouth. The Coastguard paramedic was also winched aboard. Click on Magazine and then search for Dart. The video was shot with a GoPro camera mounted on Katy Locke's helmet.
---
Posted: 24 July 2018
RNLI Dart News update July 2018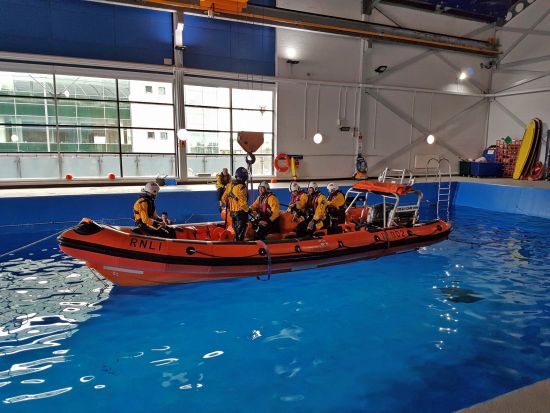 Operations.
The early part of the boating season was very busy; on 30 June there were three call outs in the space of five hours. The latest shout was to assist a yachtsman lying off Blackpool Sands with a fouled anchor. Details of all launches appear on the new station web site fairly soon after the event. Videos take longer to edit and at present the helmet camera is not functioning. Last year we used the Pentax waterproof camera to film the Whale rescues so we have reverted to using that. We hope that Blast Films will use two or three of our recues for the next series of "Saving lives at sea" on the BBC this autumn.

The lifeboat crew are now using every available minute to get everyone up to "competency" level on the D class before training starts in earnest on the B class lifeboat from 9 September. It is hoped to have enough crew trained up for the Atlantic 75 to become operational at the end of October. There will be two training sessions every week-night and by day on Sundays. Dart D'Tales now exists in a two page format in By the Dart. The August edition has an article on how training for the B class has already begun and Tom Shanley was filmed in a B class capsize drill in the Sea Survival Pool at the RNLI College. The video of this is on our web site.
The annual RNLI Dart Fete will be on Saturday 28 July in the Royal Avenue Gardens from 10am to 3pm.
Help is still needed; we can always sell cake! Whole cakes or similar can be sold on the cake stall and sliced cake can be used by Lynn Clements and her team in the Tea hut. Please bring them on the day.
Bottles are needed for the Tombola. They need not all be alcohol and everything is welcome. Rob and his team will be labelling them at 6pm on Friday at the lifeboat station. Bottles are best brought just before they start or, if you have time after reading this, to the crew meeting just before 6pm this Tues. evening. Bottles can also be left at the Visitor centre before 4pm this Friday.

The RNLI Visitor Centre.
After a quiet start to the season figures are up. Sales are 13.5% higher than at this stage last year and donations are only a little behind that. The volunteers are all working very hard and all the slots in July were filled, but there is still room for others to join the team. We have been asked to attend several outside events but this has not been possible – a few more on the rota would ease the pressure and enable us to do more. There will shortly be a new photographic presentation highlighting the activities of RNLI Dart over the last 10 years.
Regatta.
There will be two RNLI demonstrations. The first will be at 6pm on Friday 31 August and the Dart D class will be working with the Salcombe Atlantic 85. The Atlantic 85 was named in Salcombe in May this year, which is why their smaller Atlantic 75 became available for our trial. On Saturday 1 Sept. at 1pm Dart lifeboat will be operating with Salcombe's Tamar class all weather lifeboat. The best place to see all this will be on the South Embankment in front of the Harbour Offices.
John Fenton. RNLI Dart Lifeboat Press Officer.
---
Posted: 4 July 2018
The Dart Operations team raised £1,200 with a Rowathon.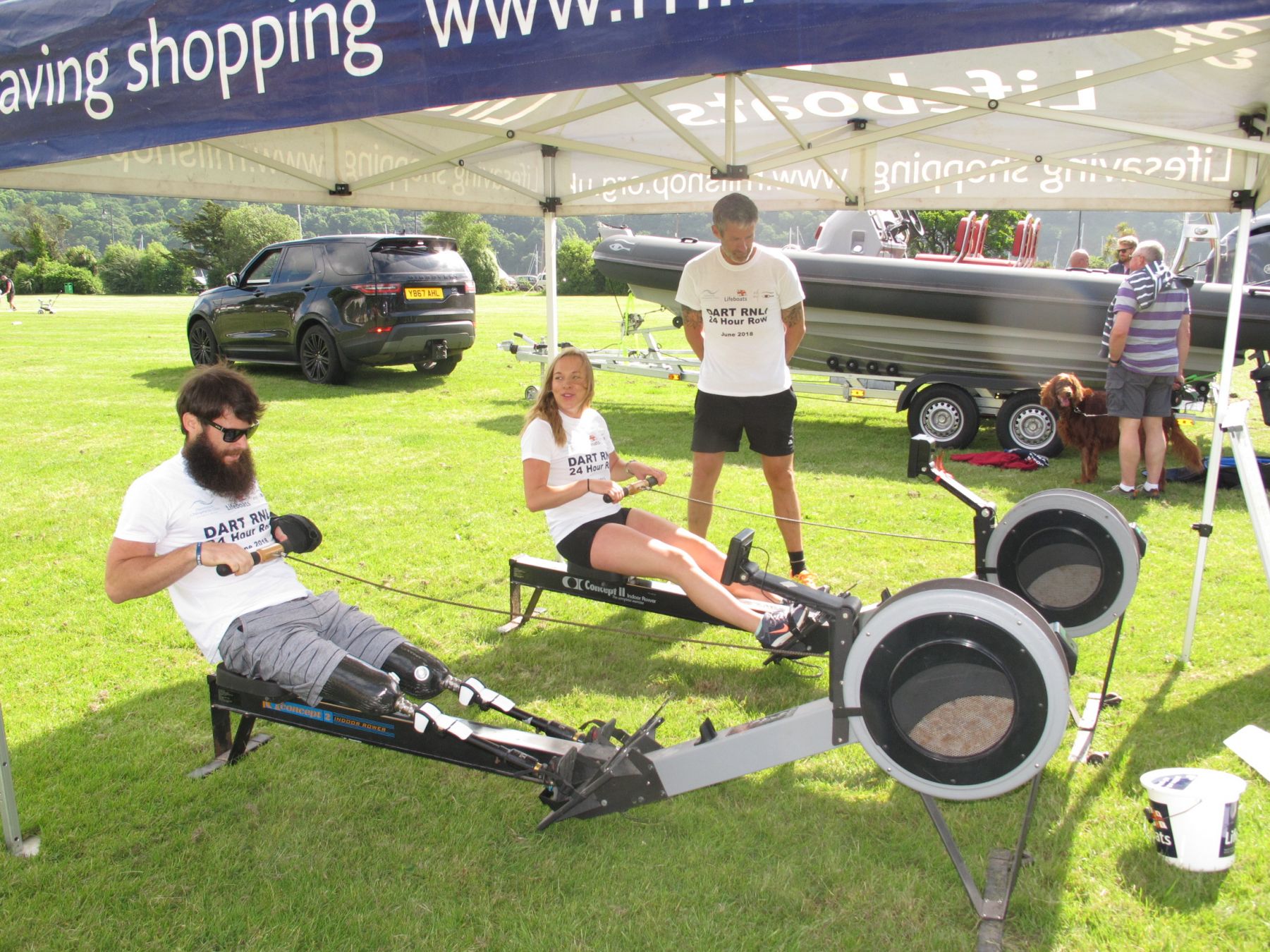 Photo: John Fenton RNLI Dart Lifeboat Press officer
The 24 hour event in June was opened by local man, Cayle Royce MBE. He had rowed the Atlantic three times for Service charities since being severely wounded in Afghanistan.  
Cayle found the rowing machines used for the event quite difficult. For his most recent Atlantic row, as Captain of the Row2Recovery team, he left his legs ashore and was velcroed into his non-sliding seat. The team took 46 days to cover the crossing and the four ex-servicemen had only three non-artificial legs between them.

Yorkie Lomas, a member of the RNLI Dart lifeboat crew taking part in the Rowathon and currently captain of the Dartmouth Amateur Rowing Club, took 36 days for his Atlantic crossing. He rowed with three others from Dartmouth from La Gomera in the Canaries to Barbados; a record which stood for a considerable time.

Crispin Brabner, also on the Dart lifeboat crew, has recently completed this year's extremely hot London marathon in 3 hours 34 minutes but took only 2 hours 55 minutes to cover the distance on the Rowing machine during the Rowathon.
The event was arranged by lifeboat crew member Katy Locke who is also Events Chairman in the Dartmouth Fundraising Branch. The crew collected individual sponsorship for their efforts. Donations were made to the Charity by the local boat building firm RibEye as well as the Dartmouth Chiropractic Clinic. Special guest DJ, Rich Baker, also contributed and covered the 24 hour event, with a little help from his friends, and did much to keep spirits up through the long hours of the night.

The Dartmouth Branch usually raises enough to cover the annual running expenses of the busy station which currently operates a D class inshore lifeboat. The crew are only too aware that fundraising activities will have to rise considerably when the ex-Salcombe Atlantic 75 lifeboat comes to the Dart this autumn to join the D class for a trial period of two years.
Photo: John Fenton RNLI Dart Lifeboat Press officer
---
Posted: 22 May 2018
RNLI Dart May 2018 News update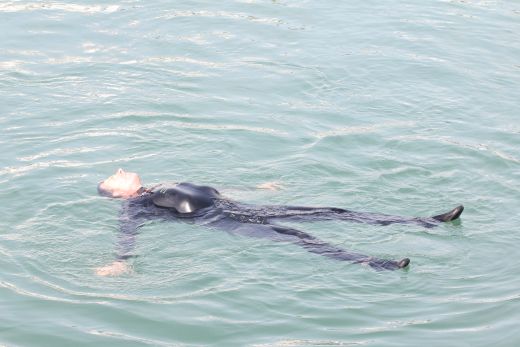 The launch of the RNLI Respect the Water campaign was filmed in Dartmouth on Friday 18 May and can be seen on BBC Spotlight on Wednesday 23 May. The main difference from previous advice is that if you suddenly find yourself unexpectedly in the water you should FLOAT; at least for long enough to get over the shock of the event.
Kevin Murphy volunteered to demonstrate the correct floating technique in the Boatfloat and was filmed by John Ayres from the BBC.
Simon Crayfourd, our local RNLI Lifesaving Manager, gave the details of the advice in the campaign and Simon Burton recounted how it felt to fall in and realise that he could not get out until he was rescued in June last year.
R N L I Dart Fundraising Committee Chairman's Newsletter April 2018
Dear Friends,
The news that we are to get a B class lifeboat on trial for 2 years is very welcome and exciting. Although the new boat will not arrive until late summer it will mean a busy time for all at RNLI Dart. Not only will the crew have to embark on training for the new boat, but it will also mean that the fundraising committee will have to go into overdrive to support the running costs of 2 lifeboats, which in turn means our budgets will have to double for the next 2 years.
We have had a good start, however. Our quiz night held on Tuesday 6th March at the Dartmouth Arms was a great success and the evening was enjoyed by all who attended with a good contribution to fundraising being made as well. Our thanks go to Andy Birsse for hosting the event.
This was followed 2 days later by the Inter-service skittles evening held at Dartmouth Yacht Club. All the emergency services attended and we were able to enjoy hot food donated by Lynn Clements, for which a big thank you. The team event was won by the Coast Watch team from Froward Point and the income raised was double that of the previous year.
On 4th April, a number of us met at the lifeboat station to receive a very substantial donation from the Master of the Worshipful Company of Paviors livery company who had chosen us as one of his charities for his year of office. The donation was a very welcome contribution to our funding.
John Yunnie and John Fenton organised our annual lifejacket clinic at the lifeboat station on 14th April. The team from Ocean Safety worked flat out all day examining over 120 lifejackets, of which only 3 were condemned; a much better result than on previous years. The team were sustained by a selection of pasties donated by John Yunnie and his wife, and there were goodies available from the visitor centre to entice the waiting queue. No charges are made for the lifejacket inspections as we merely request donations, but to be frank, these were a little disappointing this year given how busy the day was.  Our grateful thanks go to all those who helped.
Events
Our next event will be a Welly Walk, starting from the RNLI visitor centre at 10am, to Greenway, terminating at the Ferry Boat Inn on Saturday May 26. Arrangements have been made to ferry participants back down the river to Dartmouth at discounted rates.
This will be followed by our main fundraising event of the summer which will be a 24-hour sponsored row commencing at the lifeboat station at 10am on Saturday June 2nd. Cayle Royce MBE, the disabled Atlantic rower, has agreed to start off the event. Katy Locke has done a magnificent job in organising everything, which will include an all-day bar on the Saturday with a barbecue from noon to 4pm and a disco and barbecue in the evening. All the crew and staff have signed up and are now seeking sponsorship for their efforts to come. Anybody who is feeling energetic or who can't sleep at night is welcome to join us and participate. Let's hope the weather is kind over the 24-hour period.
There are a few more forward dates for your diary. Our Annual Fete will be held on Saturday, July 28th and our flag day on August 4th. If anyone can provide books, cakes or bottles for the stalls at the Fete please take them to the Visitor centre beforehand. We will also put on an event, possibly with Newfoundland rescue dogs, during regatta week. A Race Night is being organised for September with a bar and food available. We also know that the RNLI's face-to-face team will be much in evidence on the embankment over the summer.
The visitor centre results are way ahead of budget thanks to the efforts of Tracey and her team. I will not steal her thunder as she is submitting a separate report on their activities, but our thanks go to them all.
We look forward to receiving the support of all our friends and contributors over the summer months.
Bob Gilbert CBE
Chairman
May 2018 – News update from the RNLI Visitor Centre
After the quiet winter months our RNLI visitor centre in Dartmouth is open again and looking forward to seeing lots of visitors throughout 2018.
We have a great team of volunteers ready to show our visitors around our displays and tell them about the work done by our crew and all the team, both in Dartmouth and around the country. We have displays that will be of interest to all ages, from our lifeboat in the centre that children and adults can climb aboard, dressing up in our crew gear whilst learning about how it works, to displays showing the history of the RNLI. We also have lots of information and videos about the modern day RNLI and how it has developed from just rescuing lives at sea to the variety of work it now does - beach safety, flood rescue and our international work.
We also have a great shopping area selling lots of RNLI merchandise; something for everyone. For children we have pocket money toys and larger presents, teddies and our very popular crabbing lines, bait and buckets. We have souvenirs and stationery, home ware, food produce and clothing.
This year we have a new Stormy Sam toy range and new Storm Force membership packs that can be given to children to become junior members of the RNLI.
We are also introducing a new home and stationery range by the very popular Jessica Hogarth. Her "Ocean" range is bright and modern featuring sea horses and star fish. Our clothing ranges include some great new designs of men's and children's T shirts as well as our classic RNLI polo shirts and sweatshirts.
Throughout the low season we have been opening from 11am to 3pm, seven days a week. However, as summer arrives, from the 1st June we will be extending our opening hours to 10am to 4pm, again, seven days a week.
Our team works purely on a volunteer basis and thoroughly enjoy the time they spend in the visitor centre. We work in teams of two, one morning shift and one in the afternoon. We do have room for new volunteers, either for a regular position or as a volunteer who covers on an "as and when" basis. No prior knowledge is required so if anyone has some free time and would like to spend some of it volunteering for a worthy cause and be part of a great team, then please contact me at tracey.lucas@hotmail.co.uk.
We look forward to welcoming our visitors, both new and those who make regular trips to Dartmouth.
Tracey Lucas
Volunteer Manager
---