Posted: 26 March 2020
COVID-19 - our Statement
Our priority is keeping people safe in the sea and around our coast as it always has been. At a time when emergency services are already stretched we ask everyone to follow government advice. The RNLI is asking everyone to carefully consider the need to go to visit the beach, the coast or go into the water in case they get into difficulty. If you do choose visit the coast the RNLI water safety advice is;

  *   Take care if walking near cliffs - know your route and your limitations
  *   Check the weather forecast and tide times
  *   If going afloat, carry a means for calling for help and always wear a lifejacket
  *   If you fall into the water unexpectedly FLOAT TO LIVE. Fight your instinct to thrash around, lean back, extend your arms and legs, and Float
  *   In any coastal emergency dial 999 or 112 and ask for the coastguard
---
Posted: 8 October 2019
Appeals Manager thanked for his exceptional work.
Photo: Riki Bannister RNLI Dart Assistant Lifeboat Press Officer
The exceptional work carried out by David Hannah as RNLI Regional Appeals Manager for the South West was recognised at a ceremony at the Dart Lifeboat Station on Friday 4 October.
The presentation was made by the Chief Executive of the RNLI, Mark Dowie, before a large gathering of his ex-colleagues and grateful volunteers from the many stations he had guided to complete their appeals for new lifeboats and lifeboat stations.
The Presentation certificate read;
'The Chairman and Council of the Royal National Lifeboat Institution wish to record their sincere thanks to Colonel David Hannah OBE in recognition of the great success of the regional appeals for Lifeboats and Lifeboat Stations at Padstow, Exmouth, Dartmouth, Jersey, The Lizard and Looe, raising over £6m. It was through David's direction that each of the appeals generated such support from their local communities that not only built on the already strong volunteer contribution but surpassed all expectations.
David was instrumental in significantly raising local participation through his leadership and dedication, leaving a legacy of great pride in all the stations.
Mark Dowie.'

David himself wrote the following for the third issue of Dart D'Tales, published in August 2008, little knowing that, 11 years later, the volunteers at Dart would have launched 413 times and saved 12 lives as well as having an Atlantic 75 B class lifeboat half way through a two year trial to see if she should also be part of RNLI Dart.

'Our appeal for funds to set up our new Dart lifeboat station has been an enormous success.
Not only have we reached our target of £259,000, we have now exceeded it. At the time of writing our appeal fund stands at £282,212. The establishment of our new station has been made possible through the enthusiasm and dedication of our volunteers in Dartmouth, Kingswear and Totnes and the generous donations made by members of the public, businesses, charitable trusts, clubs, event organizers and other organizations.
Through our appeal for funds, they have all answered our call for help. The result is a new RNLI facility for saving lives on the River Dart and in coastal waters and for providing sea safety advice through education, which we hope will serve the community for years to come. We are very grateful for all your support.
Our appeal to meet the set up costs of our new station will close on a highly successful note on 1 September 2008. Any residual funds in the appeal account will be used for the operational maintenance of this station and our volunteer crew. Despite the completion of the appeal we will still need your help to fund the annual running costs of the station, which will be in excess of £30,000 per annum. We will need to maintain the boathouse, service the lifeboat and associated equipment and continue to train our crew, some of whom come from a non-maritime background. On average we spend £1000 each year on every crewmember to ensure their skills through training are of the very highest standard and that they are all equipped to meet any eventuality that they may face in saving lives on the water. So the RNLI's Dart lifeboat station will continue to need your help in the years to come. Your valuable support and contribution in whatever form it might take will mean that we can go on following our proud tradition of saving lives on the water and providing sea safety education.
Thank you.'
David Hannah, RNLI Appeals Manager.
It was a pleasure to welcome David back to Dart and thank him for all his hard work in making the station a reality. 

All the past history of RNLI Dart can be found on the station web site under the Dart D'Tales tab at the top of the page.
Further photographs of the event can be seen under the Photo Gallery tab.
---
Posted: 31 July 2019
Farewell to D-702 Spirit of the Dart. Welcome to D-838
Photo: Stuart Millard / RNLI lifeboat crew
D702 was donated by Caterfoods SW and was handed over to the RNLI by their Chairman, Mike Felton. She was launched on service 327 times. Her first two launches were on the day of her Naming Ceremony, 7 August 2008.
D702, and her replacements when she was away from Dartmouth being serviced, launched 375 times between 24 November 2007 and 10 July 2019. The RNLI volunteers used the Dart D class lifeboat to rescue 644 people and saved 12 lives.

The area covered by any particular launch is decided by the Deputy Launch Authority and the helm of the lifeboat. As well as shouts to go up the Dart to Totnes and beyond, in her time the Spirit of the Dart has been called to a yacht which claimed she was three miles offshore but turned out to be seven. On another occasion a motor boat called for assistance off Beesands and was swept round Start Point by the tide. On these last two occasions D702 reached the casualty and then requested assistance from our flank stations at Torbay and Salcombe respectively.
It is RNLI policy to replace their inflatable lifeboats after 10 or 11 years depending on their use. RNLI Dart has been the second busiest station with only one inshore lifeboat so she certainly qualifies. The RNLI has not yet decided on how she will be used in future. All weather lifeboats often have an offshore mooring a short distance from the lifeboat berth which is used in severe weather. The crew are taken out to their vessel on a "Boarding boat" and she might become one of those.

We are extremely fortunate that the Fuller family, who once lived in Dartmouth, have donated the money for a new D class lifeboat D838 in memory of Mrs Fuller's aunt.
The Naming Ceremony and blessing of the new boat will take place at 2pm on Coronation Park outside the lifeboat station. The BRNC Volunteer Band will be playing during the ceremony and afterwards. Invited guests will be seated and be given a cream tea afterwards. The general public are warmly urged to attend and will be able to clearly see and hear all that is going on.

John Fenton
RNLI Dart Lifeboat Press officer.
.
---
Posted: 25 March 2019
RNLI Dart News Update
25 March 2019
Operations report
The trial of the Atlantic B class lifeboat in Dartmouth started in October 2018. The station has received a very positive letter from the RNLI concerning the Atlantic operations and training to date. Rob Clements said, "An enormous amount of work has been undertaken. Procedures will be reviewed every six months". There is still Atlantic night time training to be completed by a few people. The Atlantic had five shouts in 2018. The first was to Start Point to a boat with a rope round its propeller. It took the Atlantic 14 minutes to get out there. Over the 22nd and 23rd December both boats, the Torbay all weather lifeboat, four shore teams and the coastguard helicopter were involved in a search for a missing local man. After his body was finally recovered the RNLI trauma team attended the station to support the crew.
Over the New Year period there were gale force 9 winds in the harbour and it was uncertain whether the Atlantic would have to be moved from her berth on the Aquadock alongside the low water landing to a more sheltered position in a Marina. In the event she safely rode out the storm in her usual position.
The station had 46 shouts in 2018, so it was our second busiest year. There have been seven launches so far this year. On the first of February the Atlantic lifeboat was launched to assist a 63tonne 75ft. yacht that had lost its steering just after they had lowered their sails and were motoring in past the Castle Ledge buoy. In the event the five man crew managed to set up a jury steering rig just after the lifeboat reached them. The volunteers escorted the huge yacht to a berth alongside the Town pontoon.
Area Lifesaving Managers (ALMs)
Simon Crayfourd is a paid member of the RNLI staff and is based in Kingsbridge. As an Area Lifesaving Manager he has overall responsibility for Dart lifeboat station and is the manager for Mark Strudwick, our volunteer Lifeboat Operations Manager.
The new lifesaving delivery areas are now in place: Last summer, the RNLI reviewed and identified some areas where the lifesaving area boundaries were not quite right. As a result some changes have been made to ensure the RNLI's Area Lifesaving Managers (ALMs) are best placed to provide the most effective support. There are now 47 areas instead of 41, each with a dedicated ALM.
It was recognised that many of our activities, such as training and cover for our lifeboats, depend on a close working relationship with the Torbay lifeboat station. For this reason Simon has now been given the responsibility to add the management of Torbay Lifeboat Station to those he already covers, i.e. Dart, Salcombe and Plymouth. 
Fundraising and replacing The Spirit of the Dart
The RNLI Dart Fundraising team, under the chairmanship of Bob Gilbert, are due for a busy summer. D class inshore lifeboats are usually replaced after around 10 years of active service. The Spirit of the Dart, D 702, donated by Mike Felton and Caterfood, went into active service on 2 August 2008 and has been launched on active service 351 times up to 31 January 2019 and saved 11 lives.
The generous couple funding the new replacement D class at Dart are doing so in memory of her late aunt. They are particularly delighted to be able to support the Dart station as they used to live in Dartmouth. Their commitment to the station also extends to funding the crew kit and training, which is wonderful.
The donors have planned to visit the Isle of Wight to see their boat, D 838, in production. This has been scheduled to take place at the end of May. She will have her sea trials in the second week of June and then be delivered by road to the Dart lifeboat station.
Her Naming Ceremony on Coronation Park on Sunday 4th August will be the highlight of RNLI Dart Lifeboat week which runs from 1st to 8th of August. The donors will hand over the boat to a senior representative of the RNLI who will then present her to RNLI Dart. The boat will then be named Dudley Jane by the Donors, blessed by the RNLI Dart Chaplain and launched. The BRNC RN Volunteer Band will also be playing.
Other events in Lifeboat week to note are the annual RNLI Flag day on Thursday 1 August and the Fete which will be held in the Royal Avenue Gardens on Monday 5 August. On Saturday 3 Aug there will be a raft race at 3pm from the Higher Ferry to the Boat Float. The rafts will be built on Coronation Park and the race will be a trial run for the big event in Dartmouth Regatta.
If you can help in any way with respect to the Flag Day and Fete or would consider becoming part of the RNLI Dart fundraising team, please contact Bob Gilbert on his mobile 07721 780235.
Deputy Launch Authorities
If you are under 65, live within 20 minutes of the lifeboat station and have a good knowledge of the local waters, there is a vacancy for an additional Deputy Launch Authority to join the team. Please contact Mark Strudwick, Lifeboat Operations Manager, to find out more.
All contact details can be found on the local station website www.dartlifeboat.org.uk There is also a link to past issues of Dart D'Tales, including the August 2015 issue which has a full article on building lifeboats, both D and B classes, at the RNLI Inshore Lifeboat Centre. 
John Fenton RNLI Dart Lifeboat Press Officer

---
Posted: 24 September 2018
RNLI Dart News Update
24 September 2018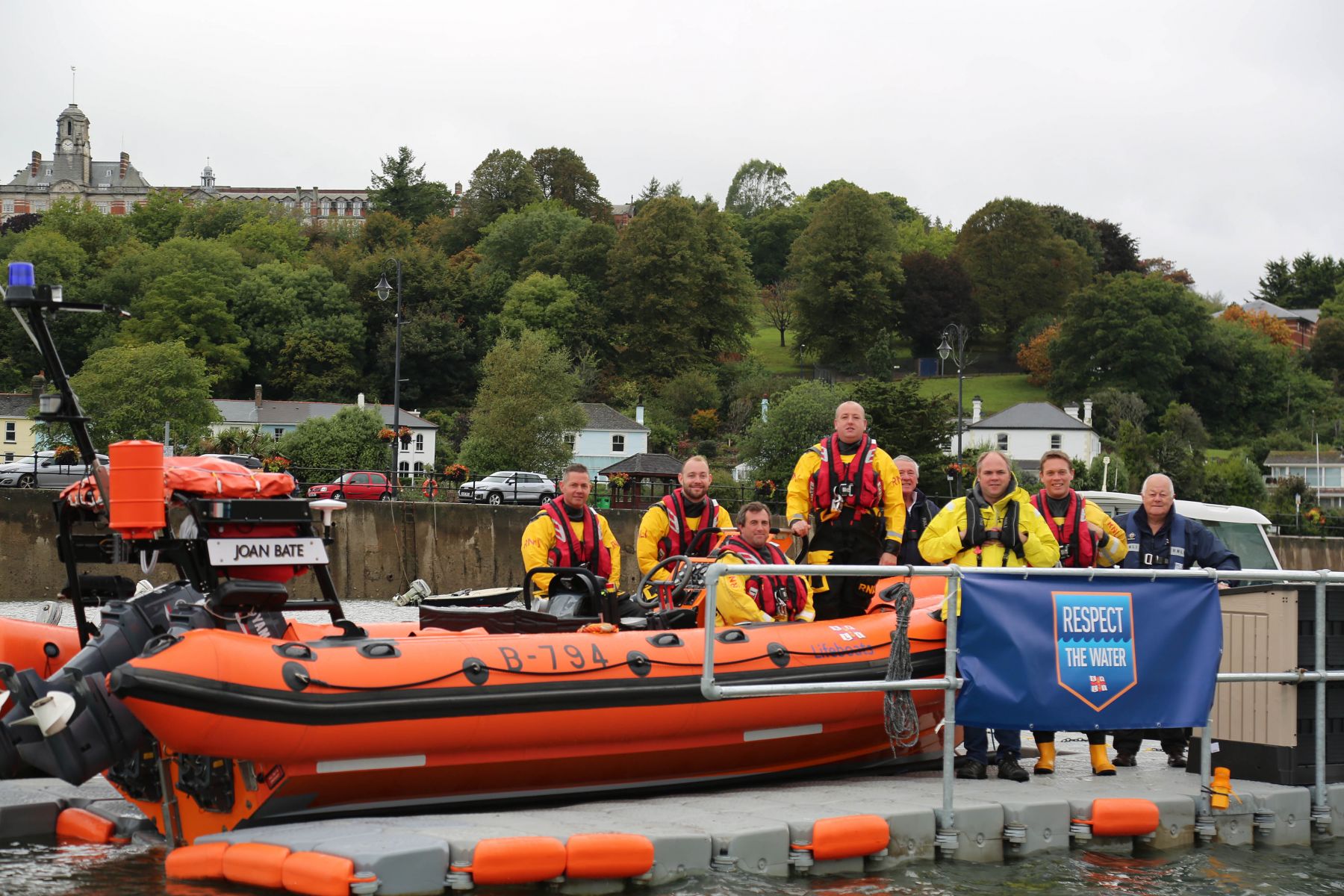 Photo: Riki Bannister RNLI Dart Assistant Lifeboat Press officer.
Dart RNLI's trial B class Atlantic 75 lifeboat arrived on station last Wednesday (19 September) ahead of a two-year trial period.
The lifeboat Joan Bate was on service at Salcombe RNLI until January 2018, where she launched 282 times and saved 11 lives during her 14 year service.
She arrived in Dartmouth on Wednesday much to the delight of the 21-strong volunteer crew at Dart RNLI, having travelled by trailer from the RNLI's Inshore Lifeboat Centre in East Cowes,
Volunteer Lifeboat Operations Manager Mark Strudwick said: 'We are delighted to welcome the Joan Bate to our station and look forward to putting her to good use on the River Dart during this trial. Our volunteer crew are undertaking intensive training to get up to speed with the new lifeboat and her capabilities before she goes on service later this autumn. This is an exciting time for Dart RNLI as we look to the future and see whether an additional lifeboat to work alongside our current D class lifeboat is a viable option.'
The B class Atlantic 75 class lifeboat is the fastest in the RNLI's fleet, with a top speed of 35 knots. It's designed as a very capable fast response craft able to operate in more challenging sea conditions and has a greater night capability than the smaller D class.
The D class lifeboat will remain on service throughout as Dart's permanent lifeboat.
A review was carried out in 2017 and indicated a potential need for a B class lifeboat stationed at Dartmouth based on the number and type of incidents that the station has responded to over the last five years. The review considered the number and types of rescues carried out by each lifeboat, changing trends and water use within the area, search and rescue demands, costs, as well as future needs. As part of this review, both Dart and neighbouring Torbay and Salcombe lifeboat stations were involved in feeding into the review to help build an all-round picture for consideration.
Simon Crayfourd, Area Lifesaving Manager, adds: 'The arrival of this trial lifeboat marks a milestone for Dart RNLI and we will watch with interest to see how this asset will benefit not just the volunteer lifeboat crew but the entire water community who enjoy the River Dart and the surrounding areas.'
The trial will begin officially once all volunteer crew have been trained and assessed in using the new vessel, expected later this autumn.
---