Posted: 7 October 2021
Garage sale to raise funds for Dart RNLI
RNLI News Release. 29 September 2021

Dart RNLI will host a garage sale to raise funds for the charity. The event will take place from 10am on Saturday 16 October from a location behind Dartmouth Higher Ferry 
The sale will feature the contents of a property on Sandquay Road which was recently acquired by the RNLI and will include, a selection of antique and period furniture, white goods, eclectic books, and variety of other household and other donated items. 
 The RNLI have taken ownership of the former home on Sandquay Road and will begin work to carrying out the necessary site investigations and surveys on the 4 October. The long-term aim is to apply for planning permission to develop the building into a permanent lifeboat station for the town to replace the current facility in Coronation Park.
It's been a busy summer for the volunteer lifeboat crew in Dart, who now operate two lifeboats, a new D Class inshore lifeboat and larger and more powerful B class Atlantic 85 lifeboat. Both lifeboats can operate in the Dart Estuary all the way up to Totnes and out to sea, covering an area seaward from Berry Head to Start Point.
Bob Gilbert, Chairman of RNLI Dart's Fundraising Committee, said
'Our volunteer lifeboat crew have launched 30 times over the course of what has been an extremely busy summer for the whole of Dartmouth, with an influx of visitors. The shouts have ranged from windsurfers, swimmers and kayakers in difficulty, walkers cut off by tide, fire on a vessel, medical evacuations and vessels broken down and drifting onto rocks.
We're extremely grateful to the previous owners of the new property for the donation of the contents of their former home, we'd love to see some of the well-loved pieces find new families, and in the process raise some money to train and equip our volunteer lifeboat crew.'
RNLI media contacts
For more information, please contact Amy Caldwell, Regional Media Manager, on 07920818807 or amy_caldwell@rnli.org.uk  Alternatively, please call the RNLI Press Office on 01202 336 789 or email pressoffice@rnli.org.uk.
 RNLI online
For more information on the RNLI please visit rnli.org. News releases and other media resources, including RSS feeds, downloadable photos and video, are available at the RNLI News Centre rnli.org/news-and-media.
Key facts about the RNLI
The RNLI operates 238 lifeboat stations in the UK and Ireland and has more than 240 lifeguard units on beaches around the UK. The RNLI is independent of Coastguard and government and depends on voluntary donations and legacies to maintain its rescue service. Since the RNLI was founded in 1824 its lifeboat crews and lifeguards have saved over 143,100 lives.
---
Posted: 2 September 2021
The Mad Dash 2021
Stuart Morrissey aka Mad Rider 1961 is well known to the RNLI. In 2005 he raised just short of £4000 for Padstow RNLI to support the new build of their lifeboat station. This time he has set off with his entourage of Paul Brady, Mike Herron and Yvonne Morrissey to visit all the South West Lifeboat stations starting from Dartmouth and finishing at Brixham on Sunday. Being keen fishermen and kayakers, they want to help raise some much needed funds for the volunteer lifeboat crews who work so hard to try to keep everyone safe.
They are carrying a bucket for anyone to donate but you can also donate on their just giving page which is
https://rnli.org/find-my-nearest/events/2021/september/the-mad-dash-2021
Good luck guys and thank you so much for all you are doing in support of the RNLI - next stop Salcombe, Plymouth, Looe, Fowey, Falmouth. Lizard, Penlee, Sennon Cove, St Ives, St Agnes, Newquay, Padstow, Rock, Port Isaac, Bude, Clovelly, Appledore, Ilfracombe, Tiverton, Lyme Regis, Exmouth, Teignmouth, and finally Brixham.
---
Posted: 3 October 2020
Dart RNLI Atlantic 85 called to three large vessels in a week
RNLI Dart News update 30 Sept 2020
The decision of the RNLI Trustees to permanently station an Atlantic 85 on the River Dart is already paying for itself.
Launch 451. On Saturday 19 September the Dart volunteers were able to respond in the Atlantic lifeboat to a Mayday call from a 33ft yacht with three onboard as they crossed the Skerries bank in Start Bay in 25knot winds and a two metre swell. They were able to reach the three uninjured yachtsmen very quickly, aided by their VHF radio direction finding capabilities, but the tow back against the wind and sea took an hour and three quarters.
Launch 542 The following day a single handed sailor on a 45ft yacht requested help in the same area when he suffered engine failure and was unable to make progress under sail. The yacht was towed to Dartmouth Harbour.
Launch 453 Exactly a week later a 45ft motor vessel struck a rock as it left the Dart estuary and started to take on water. It needed all the power of the Atlantic 85 to tow her quickly to Darthaven marina where she was lifted out of the water and the damage was assessed.
If these three incidents had occurred when there was only a D class inflatable lifeboat available the Coastguard would have had to task the all-weather Salcombe Tamar lifeboat to come from round Start Point. The Atlantic 85 was able to quickly respond to the vessel taking on water whereas; even at a top speed of 25knots, it would have taken some time for the Tamar to reach her. It is also considerably more expensive for the RNLI to launch an all-weather lifeboat than the B class.
For more photos and details of all launches please look on this website.
Saving Lives at Sea.
Launch 310. Episode 3 of the new series highlights the RNLI lifeguards on Blackpool Sands working with the Dart lifeboat crew to help an injured swimmer. The episode is at a different time from the first two. It is on BBC 2 at 8pm on Tuesday 6 October. The date of the further episodes has not yet been released.
John Fenton
RNLI Dart Lifeboat press officer.
---
Posted: 10 September 2020
RNLI Dart's Atlantic 85 became operational earlier than expected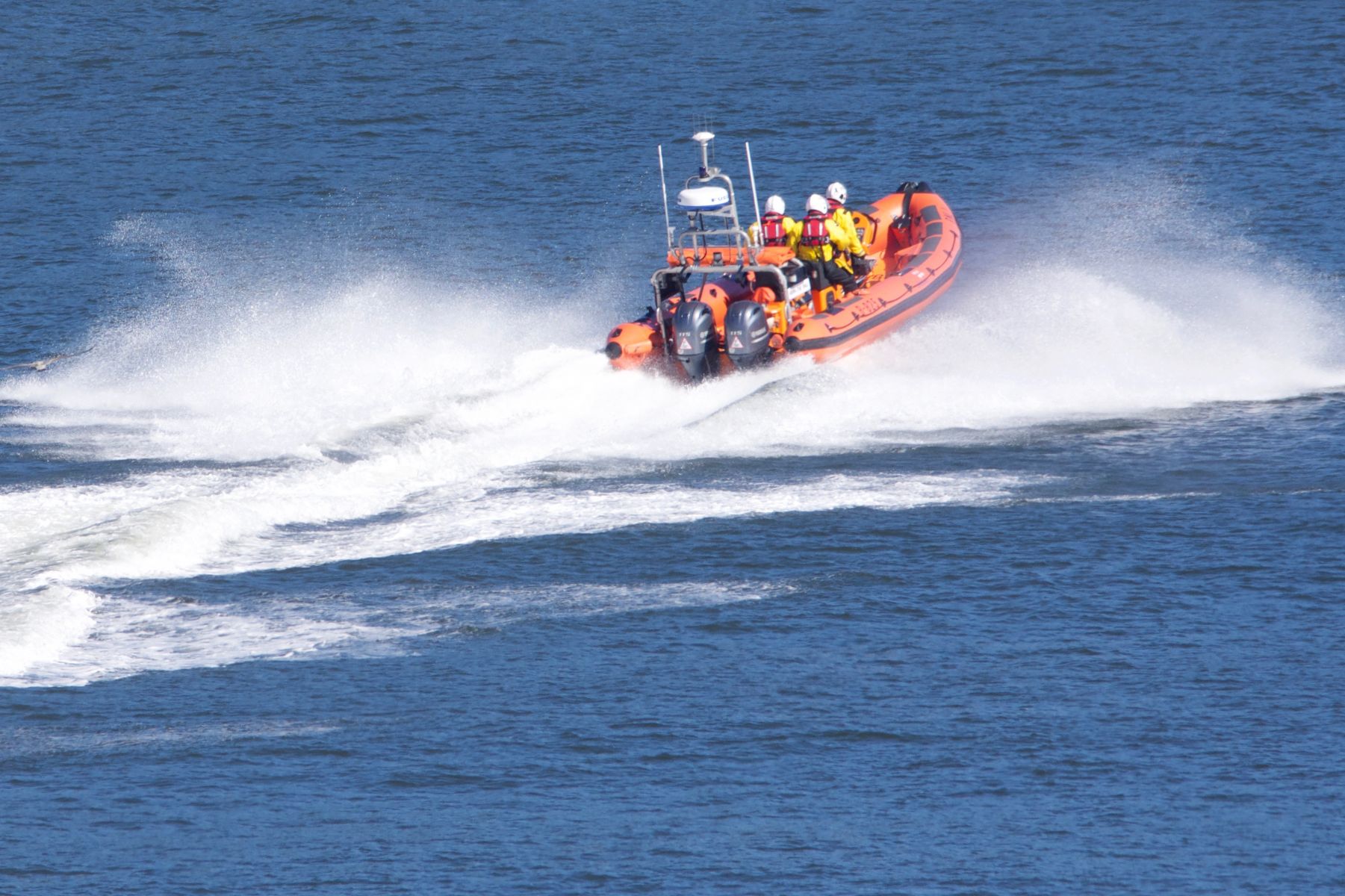 After a period of intensive training at RNLI Dart the Atlantic 85 lifeboat, B-825, was officially recognised as a Search and Rescue asset by HM Coastguard on 28 August 2020.
This means that there are now two lifeboats at the station. The D class inflatable lifeboat, D838 Dudley Jane is housed in the lifeboat station and B-825, Norma Ethel Vinall, is kept on an enlarged Aquadock attached to a pontoon in the harbour.

The volunteer crew and trainers had been using every opportunity to learn more about the Atlantic 85 ever since the decision by the RNLI Trustees in early July that the two year trial of an Atlantic lifeboat on the Dart had been successful.

Mark Strudwick, Dart Lifeboat Operations manager, was keen to highlight that the new boat not only brings increased capability to deal with the situations she is tasked to in Start Bay and for 10 miles upstream on the river Dart, but also is safer for the four crew who are now seated and strapped into a self-righting lifeboat.

Kevin Murphy, helm on both the boats, described having the Atlantic 85 as "Moving us up a league." Not only does a helm have to deal with increased windage on the boat and power from the two 115hp 4 stroke engines, but also has to keep command of all the tasks such as navigation, radar, VHF direction finding and communication being carried out by the crew.
"A game changer is the inter-communication between the crew," said Kevin. "All the crew have headsets and microphones and communication within the boat, with the Coastguard and with casualty vessels is far clearer for all concerned."

Training will continue for all the volunteers, helms and crew, but the area covered by RNLI Dart has just become a safer place to be, on and in the water.
---
Posted: 28 August 2020
Dart RNLI gets out for a photo call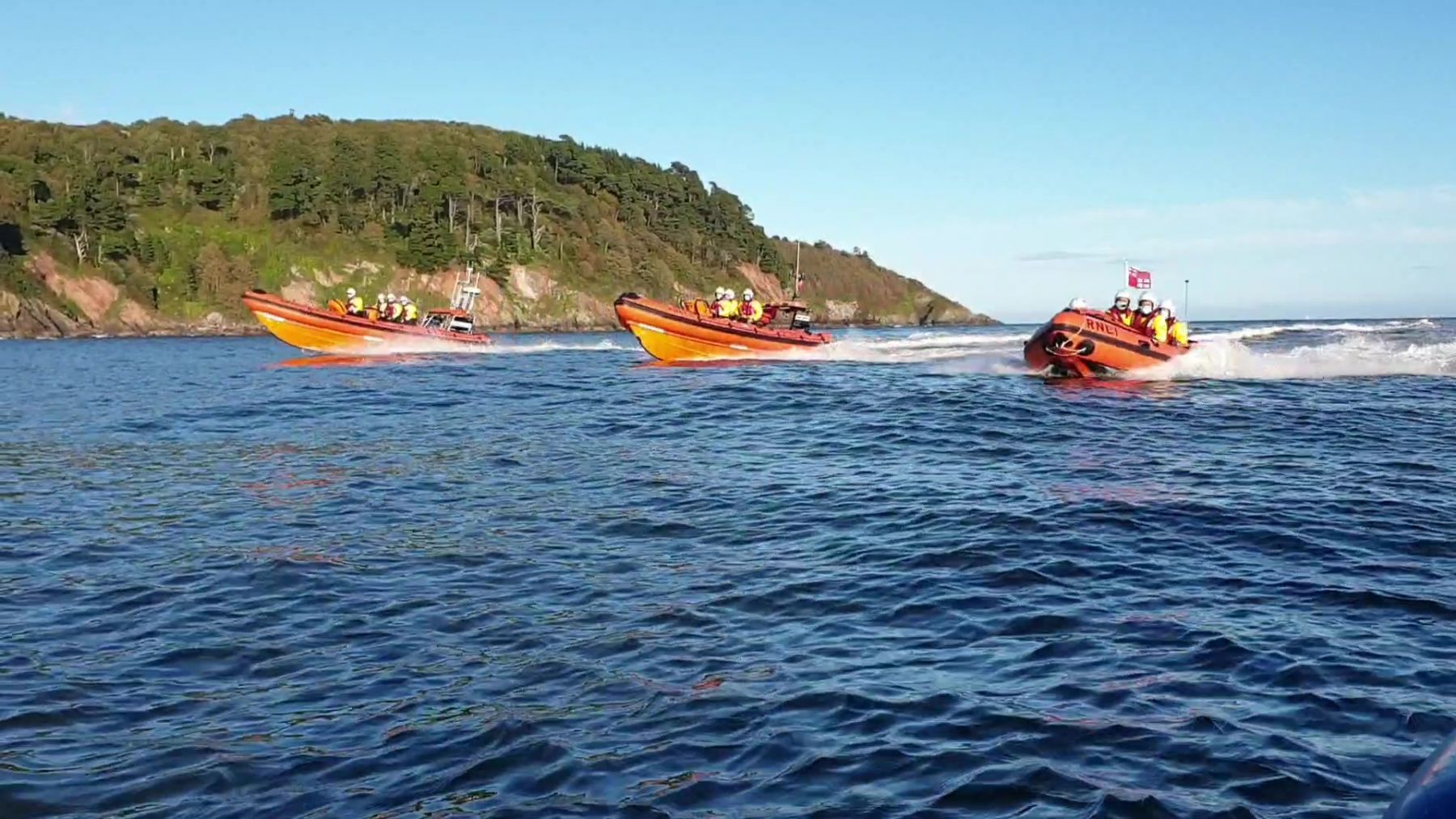 All 3 boats were out for training and Dart's Lifeboat Operations Manager Mark Strudwick saw an opportunity for a photo call. Not that they were racing but it has to be said that the little D-Class is a feisty bit of kit!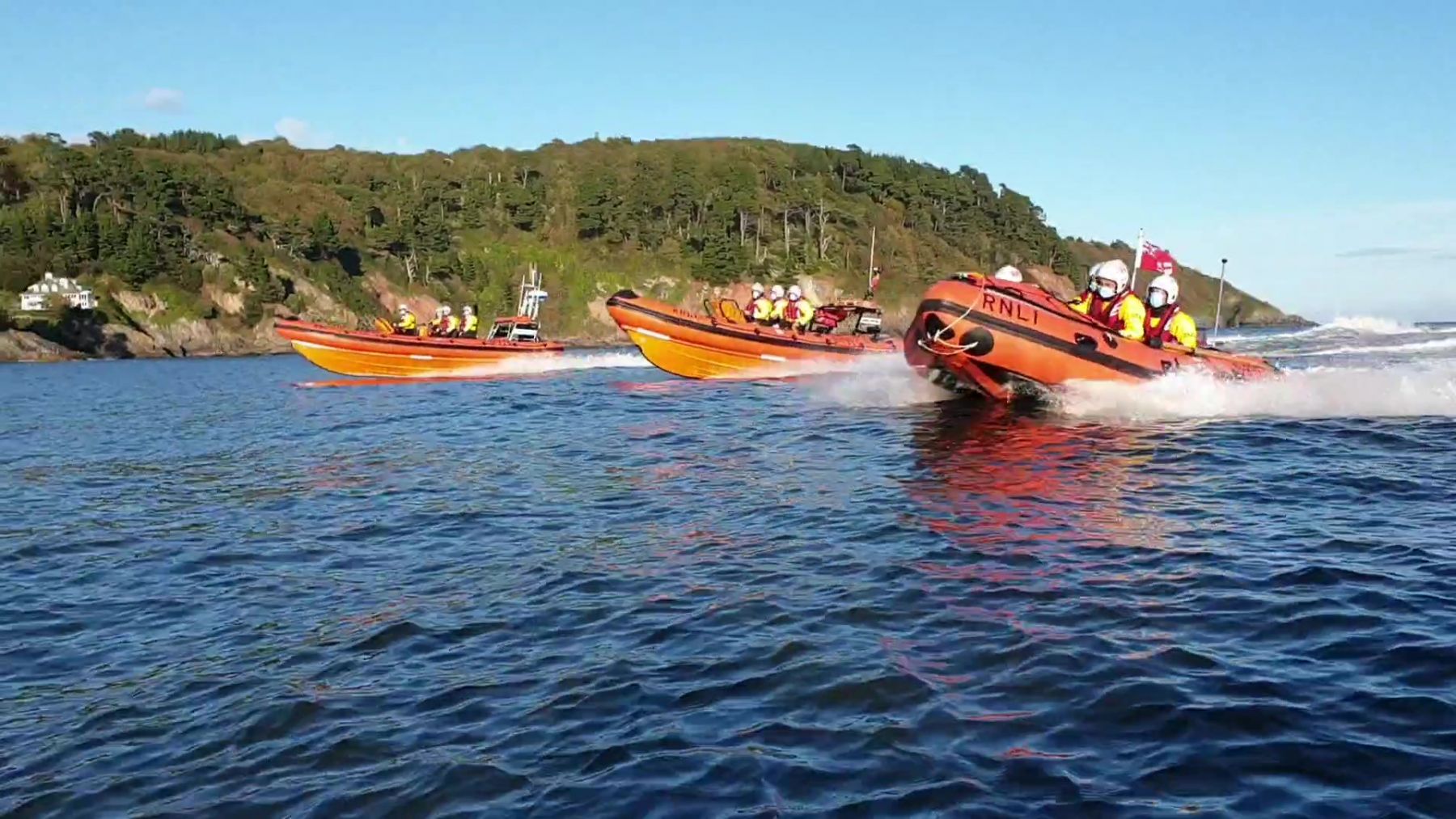 ---